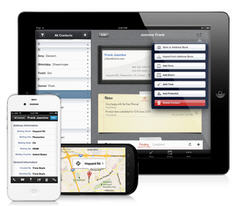 CRM Mobile
Zoho CRM can be used on all major mobile devices too. This can be done either using the Zoho CRM mobile app at just an additional 3 USD per user per month, or for FREE using Zoho CRM from within your mobile device browser and the Zoho Mobile portal.

Increase sales productivity by provifing the flexibility your teams need on the road. Add calls, meetings, tasks. Update sales information and leads.

All can be done using Zoho mobile CRM and then the user's data will be up to date and ready to use when they get back to the office.

Zoho actually have a suite of over 20 online business apps. Zoho CRM is now integrated with Zoho accounting, helpdesk, project management, online BI and email marking tools to provide a truly 360 degree suite of online customer relationship management tools.
In this example Zoho Reports has been integrated to Zoho CRM to provide very powerful drill down reporting and chart creation tools that can generate all manner of reports on the fly and even publish them online in your company wiki/intranet or website.
Why do we need this information?
We need the above fields to set up your Zoho Account and the company in the Zoho software.
We will not distribute or sell the information or divulge it in any way to anyone.