Zoho CRM - Improve Customer Interactions and Increase Sales
Zoho CRM is a powerful, on demand CRM solution perfectly suited to the home business small-medium business and large enterprise alike. With powerful features, affordable licensing and integrated to many other of Zoho's cloud solutions, Zoho CRM is ready to use without any hardware or software installation providing Sales, Marketing and Support automation.
Automate sales, marketing and support processes

Get a 360-degree view of your business

Track sales & marketing activities from a central location

Share customer emails, calls and staff interactions in one place
Benefits of Zoho CRM
Award Winning CRM Software
Sales and Marketing Automation
Zoho CRM aligns your Sales and Marketing by integrating sales with campaigns, leads, sales pipeline, forecasts, etc.
Plugins for Quickbooks, Office and Outlook
Improve business productivity by synchronizing between other software solutions.

Easily Customisable
Drag-and-drop UI tools for customizing Zoho CRM as per your business process. Need help? Let us do it for you!
Integrated Email & Email Marketing Capability
With the Outlook and Zoho Mail add-ons you can track all your customer emails. Also integrates to Zoho Campaigns email marketing app.
Inventory Management
Zoho CRM empowers you to complete the post-sales activities with an integrated inventory management system.
CRM API for Third Party Integration
Developer API for integrating CRM modules with third-party business applications such as accounting, ERP, etc.
Role Based Security
Zoho CRM empowers you to control the CRM data access based on users' job role in your organization hierarchy.
CRM Reports and Dashboards
Zoho CRM helps you to analyze sales & marketing trends and key CRM metrics by reports and dashboards and now Advanced Analytics.
Fantastic Reporting and Dashboards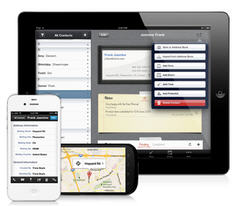 Zoho CRM can be used on all major mobile devices too. Increase sales productivity by providing the flexibility your teams need on the road. Add calls, meeting notes, tasks in the field. Update sales information and leads after face to face meetings.Increase sales productivity by providing the flexibility your teams need on the road. Add calls, meeting notes, tasks in the field. Update sales information and leads after face to face meetings.
All of it can be done using Zoho mobile CRM and then the user's data will be up to date and ready to use when they get back to the office
.
Integrated Zoho Cloud Business Apps
Zoho actually have a suite of over 40 online business apps. Zoho CRM is now integrated with Zoho accounting, helpdesk, project management, online BI and email marking tools to provide a truly 360 degree suite of online customer relationship management tools.
In this example Zoho Reports has been integrated to Zoho CRM to provide very powerful drill down reporting and chart creation tools that can generate all manner of reports on the fly and even publish them online in your company wiki/intranet or website.
Rapid implementation packages available - contact us for more information

Rich feature set with intuitive, customisable user interface

Fraction of the cost of alternatives, why pay more? Zwitch to Zoho now!

No hardware or software needed, accessible from anywhere

World class data security, backup your data at any time

Extensive reporting capability into key business areas: Sales, Marketing and Support

Increase business productivity by automating the customer life cycle

Continuous product updates with no service disruptions or extra costs

Optional, dedicated HelpDesk support packages.
What does Zoho CRM allow you to do?
Sales Managers
Log and track pipeline sales

Improve lead conversion process

Shorten sales lifecycles

Log and track issues

Log and track sales activities

Streamline Quotation and Invoicing

Improve corporate communications

Get visibility into revenue pipeline
Marketing Managers

Manage marketing campaigns

Track campaign ROI

Email marketing

Maximise lead capture

Improve future campaigns

Streamline sales processes

Consolidate marketing medium

Manage Telesales campaigns
Support Managers
Centralise support requests

Track support team activities

Develop internal knowledgebase

Reduce issue resolution time

Capture customer issues via the web

Link cases to product knowledgebase

Automate case management

Get 360 degree view of customer cases
Get Started!